Human Life
Swell of Support: Mountains Wave Teams Up with City Surf Project
Aug 1, 2023
Surfing, sunshine, and a great cause – the Mountains Wave Marketing team can't be more proud of our recent partnership with City Surf Project (CSP)! Together, we hosted a successful group paddle out and fundraising event to support CSP's mission and bring the joy of surfing to more Bay Area and Santa Cruz youth.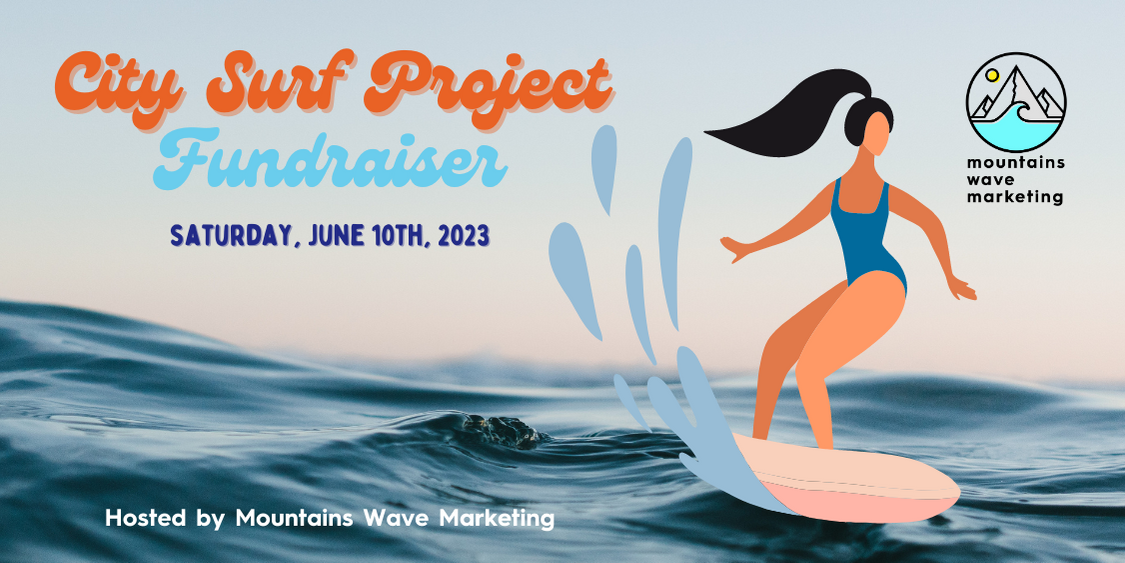 City Surf Project is a great non-profit organization headquartered in the city of San Francisco, where they work to empower underprivileged youth by giving them the opportunity to experience the ocean through surf instruction. CSP's mission extends beyond merely teaching surfing skills; it aims to improve the overall health and well-being of the youth they serve by engaging them in four core pillars: surfing, environmental education, community service, and mentorship.
The Fundraiser
Our main goal was to raise funds for CSP's program, enabling more children to have life-changing experiences in the ocean. The fundraising event was a remarkable success that brought together individuals from all walks of life, all passionate about supporting CSP's cause. We were stoked to create an opportunity for the Santa Cruz community to come together and rally behind CSP's mission.
Organizing the Event: A Team Effort
Pulling off a successful fundraiser takes dedication and teamwork, and our collaboration with CSP was no exception. Together, we worked tirelessly to bring this event to life.
We crafted compelling marketing materials to spread awareness about the fundraiser and CSP's mission. Social media posts, flyers, and digital campaigns were designed to engage the community and encourage their participation.
Securing the perfect venue was crucial for the event's success. We were able to organize a group paddle out at the Capitola Jetty where the team got to share some waves with the City Surf members. We finished with an exciting evening at Buzzo Pizza with plenty of prizes won, money raised, and pizza consumed.
We collaborated with various local businesses and community members to secure sponsorships and donations for the fundraiser. Their support played a vital role in achieving our fundraising goals.
Thank you to all of the generous sponsors that made the event a success:

Beyond the Fundraiser
Our partnership with City Surf Project didn't stop at the event. We initially teamed up with CSP to revamp their current website pro bono, which proved to be the foundation of a meaningful and ongoing collaboration. The website overhaul opened the door to more opportunities to work together, culminating in the fundraising event.
Results and Future Collaborations
Thanks to the dedication of both the CSP and MWM teams, the fundraising event saw an impressive turnout. The funds raised will enable CSP to expand its programs and positively impact even more young lives in the Bay Area.
Looking ahead, we are already planning future collaborations with City Surf Project. CSP mainly works with elementary and middle schools, and our next goal is to host another event during the school year. This will allow us to reach even more young hearts and make a bigger splash in promoting the love of surfing and its positive impact on our youth.
A Team Effort: The People Behind the Magic
A great event like this wouldn't have been possible without the dedication and passion of both the City Surf Project and Mountains Wave Marketing teams.
Special thanks go to Gwen Debaun, Lia Posatiere, and Andrew Perry from the CSP team, who played a vital role in making this event a success. And of course, the entire Mountains Wave Marketing team contributed their time and effort, ensuring everything ran smoothly.
In Conclusion
Our partnership with City Surf Project has been nothing short of awesome. Together, we have demonstrated the power of community and collaboration in creating positive change.
We extend our heartfelt gratitude to everyone who participated, donated, and supported this fundraising event. It's through collective efforts like these that we can make a lasting difference in the lives of our youth and help them catch the wave of a brighter future.
Stay tuned for more collaborations between Mountains Wave Marketing and City Surf Project. Together, we'll continue making waves of positive change, one surf at a time!