Professional Life
Road to B Corp: Our Commitment to Social Responsibility, Environmental Stewardship, and Accountability
May 21, 2023

Mountains Wave: Certified B Corporation
At Mountains Wave, we believe in marketing as a force for good. That's why our team is proud to announce that we have become a certified B Corporation, after embarking on this journey in June 2022. We finally have reached our goal, but it doesn't end here! We are committed to meeting and exceeding the high standards set by B Corporation of social and environmental performance, accountability, and transparency.
What does the B Corporation Certification mean?
B Corp Certification is a designation that a business is meeting high standards of verified performance, accountability, and transparency on factors from employee benefits and charitable giving to supply chain practices and input materials. In order to become a B Corporation, a company must undergo a rigorous certification process that includes an assessment of its impact on employees, customers, our community, and the global environment through the way we govern business in practice.
As a certified B Corp, we are now part of a global movement of companies that are using business as a force for good. We are proud to be part of this community of over 6,300 businesses that are working towards a more sustainable and equitable future for all.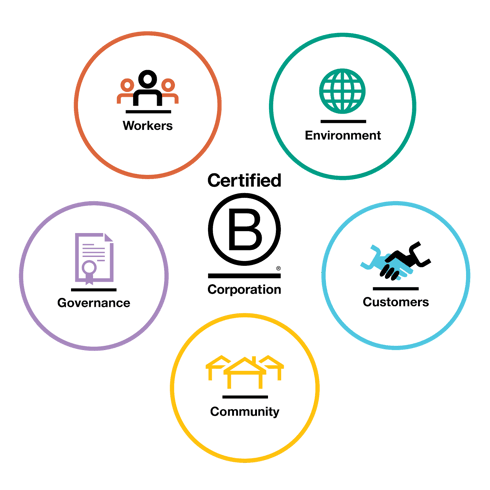 Here are the steps we take at Mountains Wave toward that commitment.
Social Responsibility
We believe that businesses have a responsibility to create a positive impact on their stakeholders, including employees, customers, suppliers, and our wider community. Our commitment to social responsibility means that we strive to make a positive impact on the world around us.
Environmental Stewardship
We are committed to reducing our environmental impact and to be better stewards to the Earth. We do our best to source sustainable materials, minimize our waste and energy use, and work with eco-friendly partners to ensure we're doing our part for the environment. Mountains Wave has worked hard to create a virtual office policy and is working on implementing diligent carbon tracking so we know how much we need to offset.
Accountability
As a B Corp, we are committed to being transparent about our impact and our practices. We regularly assess our practices to ensure we meet the highest standards of social and environmental performance and are held accountable for our commitment to B Lab as well as our stakeholders.
Community
We are committed to supporting and investing in the communities where we operate. This means everything from volunteering our time and resources doing Pro-Bono work, physically showing up for local causes, sourcing from local suppliers, and supporting local businesses.
Governance
Aligned with the accountability statement above, our governing bylaws are in line with the operating best practices of a B Corp, and hold our leadership and team to make decisions through the B Corp lens. We don't rush to make decisions but rather think through the downstream effects on our team, customers, and community stakeholders.
Go Further with Mountains Wave
At Mountains Wave, we will continue to push ourselves to be better, to do better, to leave things better than we found them, and to make a positive impact in everything we do.
We are in the business of supporting purpose-driven companies, guiding them to tell their stories in an authentic way. We hope you'll join us on our journey towards a brighter future, and don't hesitate to reach out if you want to be part of our story.