Professional Life
Enara Health Case Study: Redesigning a Website to Convert in a Redefined Space
Jun 23, 2023
Enara Health is a healthtech company revolutionizing the weight loss space within healthcare through affordable access to a network of caring providers, approachable technology, and a scientifically-proven protocol. Enara works closely with both primary care and cardiometabolic providers to bring them personalized obesity management services that they can then provide to their clients.
Enara originally reached out to Mountains Wave in the winter of 2022 just as they were looking to grow their network of clinics. In order to reach their goals, they needed our team to thoroughly redesign and update their website, implement a scaleable marketing strategy, and build out a CRM to manage their B2B pipelines.
The Website
Enara was looking for a more responsive, optimized website that had an updated and modern feel with clean and user-friendly navigation. In addition, Enara's old website didn't include essential pages and sections such as spaces for clinics and providers. With this new website, Enara wanted to ensure it would be positioned toward its target audience to drive conversions and improve its B2B sales success rate.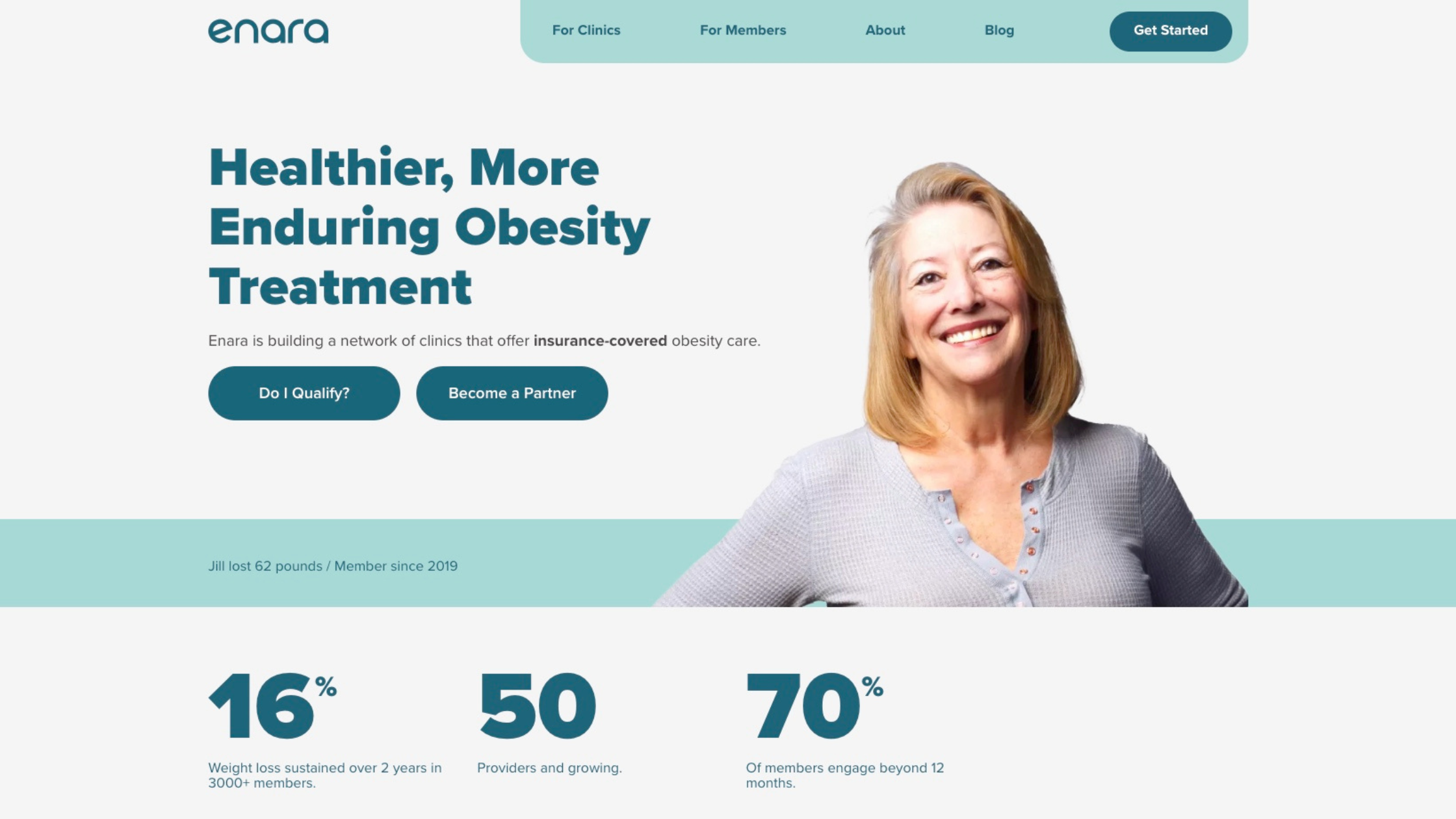 The Mountains Wave Marketing Process
When it comes to our website projects, the process has become pretty streamlined. At the start of every project, we sit down with the client to not only outline the process and figure out what it is they're looking to achieve but to also fully understand the specifics of their business so we can ensure the final product effectively captures their target audience and establishes a strong presence within their industry. This was no different for the Enara website project.

Following our initial discovery call with the Enara team, we developed a comprehensive proposal that included a well-defined timeline to ensure smooth project progression and the timely launch of their website. Additionally, we provided the Enara team with a questionnaire to gather more in-depth information about their company, offerings, and specific goals and KPIs.

With a clear idea of their business, needs, and goals, we were able to seamlessly move into the website build phases of the project. Our website builds are typically broken down into 4 phases:
Outline and wireframe phase
Design phase
Development phase
Final changes and requests phase

Outline and Wireframe Phase
The outline and wireframe phase officially kicks off the website build. In this essential stage, one of the first things we do is outline the site map. This gives everyone a clear roadmap of what web pages will need to be built and the overall flow of the website.

Once the site map is confirmed, we begin mocking up a wireframe. The wireframe gives a basic look at the layout of the different pages and the different modules that will be included. We have weekly meetings to check in, give updates, ask questions, and ensure this phase progresses as planned. Once Enara approves the wireframe, we move into the next phase.


Design Phase
The design phase kicks off with the approval of the wireframe. At Mountains Wave, we tap into our Friends Collective to get a professional designer who fits the overall style and tone of the client, Enara in this case, to begin designing the website. To start, our designer will mock up two different custom homepage designs. These two designs will be on-brand but will contrast one another enough to give Enara two different options to choose from.

When Enara's homepage designs were done, we reviewed the two in our weekly meeting to get their feedback. They chose the design they preferred which gave our designer the direction to then design the rest of the website. While our designer designed the rest of the website, Enara was able to provide feedback on the design. Once all of the pages were designed, we did one round of revisions making all of Enara's design change requests. From there we presented the changes and updates, got their approval, and concluded the design phase.


Development Phase
Following the final approval of the design, we launched the development phase. Again, we take advantage of our vast network of experienced professionals to find a developer whose skills we know align well with the website's development requirements.

During this phase, our weekly meetings became biweekly. That is because by this point, the designs and most of the content were confirmed which allowed the developer to focus on building those designs and implementing the content. Enara received access to our project management tool allowing them to continue to track and monitor progress when we weren't meeting.

Throughout this phase, we worked closely with both Enara and the developer to make sure the approved designs and content were being implemented. In addition, we kept a close eye on the timeline to ensure everything stayed on track and hit its due dates.

As development started wrapping up, we had one final round of revisions. At this point, Enara was able to go through the website, as if it were live, and make sure everything was how they wanted it. Any changes they requested, we immediately updated.

We keep speed and accessibility a high priority when developing websites. So, before we went live with the Enara website, we began QA testing for mobile, desktop, and tablet views. This allows us to ensure that the website will be working smoothly, loading quickly, and functioning properly. We made the necessary updates there, and the Enara website went live!


Handoff
Mountains Wave continues managing Enara's website to this day. This includes regular SEO updates, content change requests, periodic functionality updates, bug fixes, and any other possible changes that need to be made.

However, in the case that we don't continually manage a website, we organize a handoff process. This ensures a smooth transition from our team to the client's team so that they're left knowing exactly how to manage their website. This process includes passing along all login information, a meeting to walk through the entire back end of the website, and training videos that touch on how to make different changes and updates.

One of our biggest priorities when designing a website is building templated pages. This makes it easy for clients with little to no coding experience to be able to plug and play new content and duplicate existing pages to create new pages when they want. Our goal is to leave our clients feeling confident about their websites.
The Full Package
In addition to the website redesign, Mountains Wave provides Enara Health with a complete inbound marketing partnership. This includes content creation, social media management, email marketing, copywriting, paid advertising, and co-marketing.

Enara also takes advantage of our HubSpot services. This allows the Enara sales team to tap into our HubSpot expertise to help them continually build out and update their sales and marketing B2B pipelines and automations.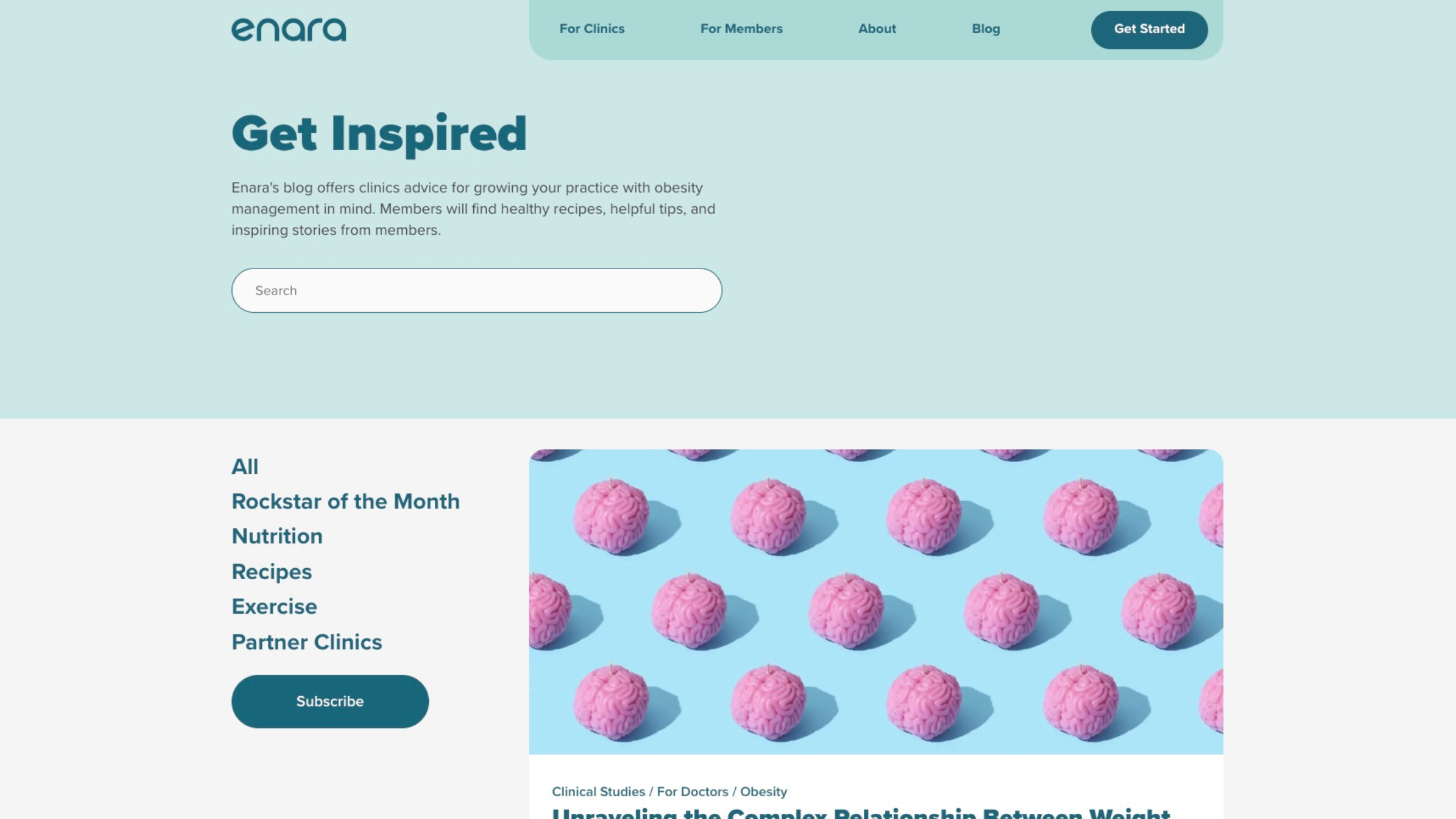 The Results
Mountains Wave Marketing launched the Enara Health website at the end of April 2023. The website received a GTmetrix grade of A with a 97% performance rating and an 88% structure rating. The website has already seen a 25% increase in web traffic and is consistently attracting new leads. We continue to implement the marketing strategy and expand Enara's digital reach through all channels and are excited about the opportunity to continue helping grow their business.

Services Rendered
Web Design

Web App UI/UX

HubSpot Implementation

HubSpot Management

Marketing Strategy

Marketing Implementation

Paid Advertising

Copywriting

Email Marketing

Social Media Management

Content Creation

Co-Marketing
Mountains Wave Team Members
Account Manager -

Anna Swan

Project Manager -

Piper Lee

Content Support -

Derek Moeller

Account Adivsor -

Leah Schoenfeld

Account Advisor -

Alex George
The Friends Collective
Web Design - Zerozero3
Web Developer - Remer Graphics
Blog Copywriting - Michael Miller & Saasprin
Paid Advertising - Industrious Marketing