Professional Life
Hint Health Case Study: Realigning HubSpot to Scale
Oct 25, 2021
Hint Health approached us to overhaul their HubSpot for inbound marketing and sales efforts. They tasked us with auditing and restructuring their HubSpot portal to accurately align analytics across all digital applications. They needed a Hubspot expert to organize and optimize their data that had become bogged down after many years and several managers. They also wanted us to create a strategy to leverage a more effective sales funnel across customer segments.

A leader in the tech healthcare space, Hint Health provides a platform and mediation service between patients and health practitioners. They offer the ability for error-free manual tasks by automating member enrollment and billing, and automated workflows for large and complex employer contracts.
Mountains Wave Marketing Approach
Phase 1: HubSpot Revamp: Sales & Marketing Must-Haves
We sat down with the Hint Health team to understand how they were using HubSpot and what they wanted out of it. We identified redundancies, cleaned up usage and eliminated unused fields. We streamlined HubSpot integration with all digital applications reporting correctly and we were able to gather intel on the sales funnel process to improve inbound leads.
Phase 2: HubSpot Revamp: Sales & Marketing Nice to Haves
After optimizing HubSpot, we identified gaps and leaks where prospects needed additional nurturing to improve conversions and close larger deals. We created flows and patterns that allowed sales, marketing, business analytics, and C-Suite to all be engaged and produce results. We provided training in account management and account-based marketing and processes to drive additional inbound interest and a renewed focus on data analytics.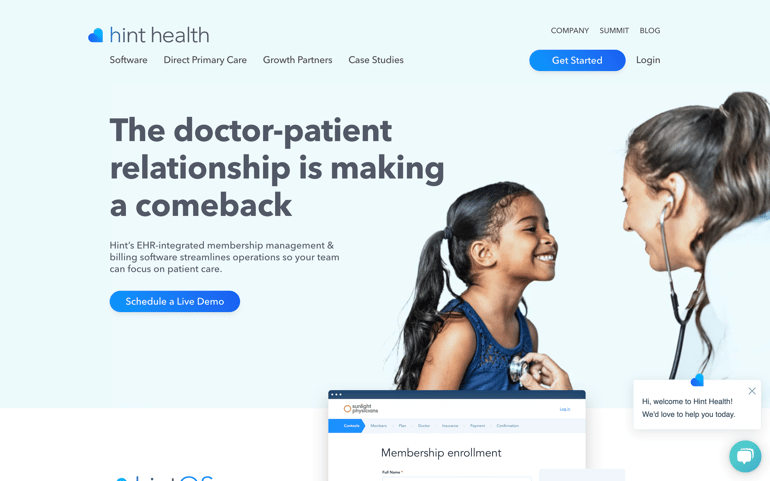 The Results
Hint Health was so delighted with the results that Mountains Wave delivered from the HubSpot project that they decided to retain us as their digital marketing agency. Our successful optimization of the HubSpot portal allowed for hugely improved analytics and results. Additionally, we delivered streamlined communication and results between HubSpot and other digital reporting tools. We also implemented an account-based marketing strategy, workflow, and training for staff tailored to each client segment.
Testimonial
"Alex was instrumental in helping us get a handle on our HubSpot Instance. He was easy to work with, always available for questions, and provided the process-driven insights our team needed to successfully take back control of our HubSpot instance. We look forward to continuing to work with Alex and the entire Mountains Wave Marketing team!"
- Aimee Leidich, Director of Business Operations, Hint Health
Services Rendered
HubSpot Marketing, Sales, and CMS Updates & Implementation, Marketing Strategy, Marketing Implementation, Paid Advertising, Copywriting, Email Marketing, Sales Enablement, Reporting
The Friends Collective
Paid Advertising - Cultivative Marketing