Professional Life
Meet Sean: Marketing Coordinator at Mountains Wave Marketing
Feb 8, 2022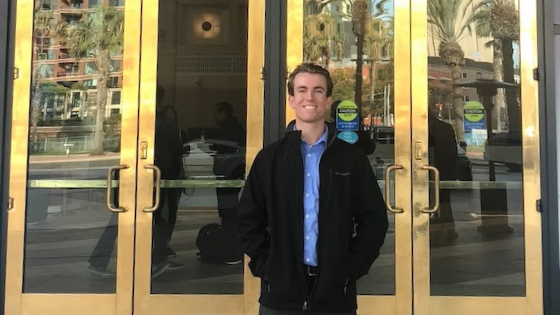 By Sean Moakler, Marketing Coordinator

Hi Sean, it's nice to meet you! Introduce yourself!
Hi, I'm a new Marketing Coordinator at Mountains Wave Marketing. I graduated in May of 2021 with a BS in Business Administration and an emphasis in Marketing. Before Mountains Wave, I interned for about a year and a half in sports sponsorships as a sponsorship scout and a sales enablement intern. I'm really excited to move into the next phase of my young career and do what I can to help Mountains Wave and Mountains Wave's clients grow!
How did you get connected with Mountains Wave?
I actually played Little League with one of Alex's younger brothers years ago and our moms had stayed connected through Facebook ever since. My mom came across a Mountains Wave post and brought it to my attention. After that, I reached out to Alex and luckily the timing worked out!
What is your favorite part of working at Mountains Wave?
I'm just getting started so I haven't worked on too many projects yet. However, so far I'd probably say working with different editing tools to put together graphics and videos - like the one below. Those projects have allowed me to be more creative which is something I think most marketers enjoy.
In that case, since you are new to Mountains Wave, what are you looking forward to most about working here?
I'm really excited to learn and grow as much as I can as a young marketer. What's cool about my position at Mountains Wave is I will have the opportunity to be apart of different types of marketing projects. For example, I may be doing paid advertising one time, then building a website or creating social media content the next. I could be helping a client implement HubSpot while conducting a sales demo a few minutes later. Mountains Wave can help me become somewhat of a jack of all trades which I know is something that will be great, not just for my professional career, but for my personal life as well. Ultimately, since Mountains Wave is still young, I'm excited to help grow the company as much as I can as I grow with it. And that is something I am excited about!
Anything else you want to share about yourself? Favorite hobbies? Fun facts?
I enjoy watching, following, and playing sports. Baseball especially (Go Giants!). I also enjoy just spending time with family and friends. A fun fact about me is I am the oldest of four. I have two younger brothers and a younger sister.

It was nice to meet you, Sean! To connect with Sean on Linkedin, click here.
To connect with Mountains Wave to see what we can create together, visit us here.