Professional Life
ReadyPrice Case Study: Mortgage-Tech Launch, Growth, and Beyond
Dec 10, 2021
ReadyPrice reached out to Mountains Wave Marketing in the Fall of 2019, just as they had completed v1 of the mortgage technology and were preparing to take it to market. They were seeking an agency to design and launch their website, build-out and implement a go-to-market strategy, and train their team on how to sell and service a SaaS product in today's digital landscape.
ReadyPrice is an innovative fintech company that has created a unique position for itself in the mortgage industry as a community platform to facilitate productive relationships between mortgage loan originators (MLOs) and wholesale mortgage lenders. They provide a Product Pricing and Eligibility (PPE) technology where MLOs can identify new lenders to work with as well as deliver their loans to.
Mountains Wave Marketing Approach
Phase 1: Go To Market - December 2019 to July 2020
We initially built the ReadyPrice website on the Wix platform as the pre-launch startup was limited in budget and needed a website quickly. That wasn't an issue, as we were able to design and launch a professional website with the budget as well as design a custom marketing strategy and build a brand identity to bring their mortgage technology product to market in late 2019. Just as we were ready to launch ReadyPrice, the industry changed and we were asked to quickly revisit the approach. Our open communication with their team and adaptability made the pivot quite successful. We were asked to completely redesign their application's UI and go-to-market strategy in a very short period, but glad to share that ReadyPrice was successfully launched in July 2020. We kicked off our marketing campaigns focused on email marketing, digital marketing, paid advertising, and social media to grow their user base and brand recognition quickly.
In addition to a successful launch of the product, Mountains Wave was responsible for the implementation and management of ReadyPrice's HubSpot accounts, where they leveraged Marketing Hub Professional and Sales Hub Professional to manage the growth of the business.
Phase 2: Growth - July 2020 to December 2020
During the second half of 2020, we were focused on growing ReadyPrice's MLO user base and paid sponsor lenders. We continued to implement the marketing strategy focusing on industry relationships to boost ReadyPrice awareness through a number of content, social, and paid marketing strategies. Doubling down on this approach proved successful, as ReadyPrice was able to grow its user base extremely quickly and just five months after launch, there was expressed interest from larger companies to acquire ReadyPrice.
Phase 3: Increased Budget, Refinement & Growth - January 2021 to Present
In January 2021, just six months after launching, ReadyPrice was acquired by SitusAMC, a leader in solutions powering the lifecycle of commercial and residential real estate finance. Having seen the past work Mountains Wave Marketing had done for ReadyPrice, they extended our contract through 2021.
We continue to run the ReadyPrice sales and marketing strategy, manage content, digital presence, HubSpot, as well as user experience and application user interface. Since the injection of cash into the business and marketing budget, we've also completed a redesign of the ReadyPrice website using WordPress, in addition to fully integrated the site with their HubSpot instance.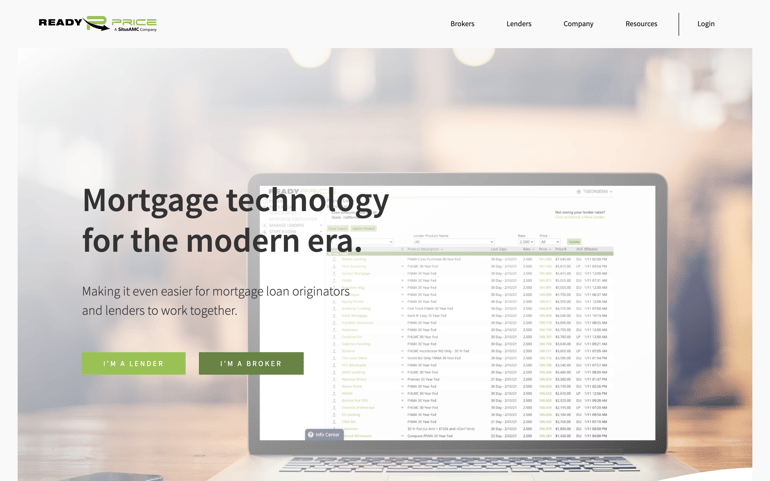 The Results
Mountains Wave Marketing facilitated a successful business launch and subsequent acquisition of ReadyPrice. We have grown their user base to over 2,000 in the first year. We pivoted our services as needed to quickly adapt to the changing demands of their industry and business needs. In addition to supporting their growth and success, we created and continue to manage many aspects of their customer experience to success.
ReadyPrice has been one of our most successful relationships and has been a phenomenal partner to work with. It's gratifying to see a company that we have worked so closely with since their inception, reach their success in such a short time. We are grateful for the relationships that have come through Readyprice and SitusAMC, having led to additional new business for our agency.
Testimonial
"Alex and his team really put ReadyPrice on the map! From concept to execution Mountains Wave made it happen, helping with UX/UI, marketing strategy, HubSpot implementation, sales training, enablement, and more! The team is SUPER efficient with their time. Tasks that would normally take marketers days (or even weeks) to accomplish happen in hours with Mountains Wave. That alone is an incredible value for any growing business. Alex is also a very strategic thinker with a high appreciation for sales and the selling process. I highly recommend Alex if you're looking for 'Make it Happen' results."
- Rick Soukoulis, Founder & CEO, ReadyPrice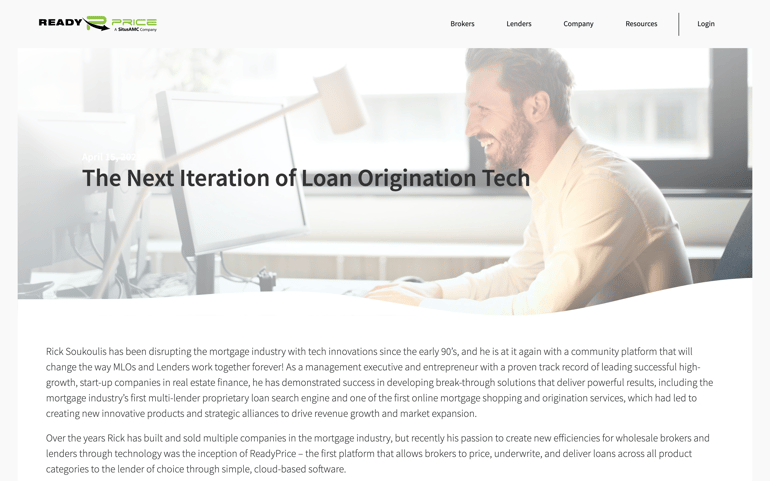 Services Rendered
Web Design, Web App UI/UX, HubSpot Implementation, HubSpot Management, Marketing Strategy, Marketing Implementation, Digital Advertising, Paid Advertising, Copywriting, Email Marketing, Direct Marketing, Sales Enablement, Content Creation, Social Media Management, Video Editing, Customer Service Management
The Friends Collective
WebDesign - Remer Graphics
Illustrator - Brenna Coyle
Paid Advertising - Cultivative Marketing
Video Production - Tony Vercelli
Social Media - Rebekah Bibee