The Loan Store Case Study: Strategy Implementation & Website Redesign
Sep 22, 2021
The Loan Store approached Mountains Wave Marketing with the desire to develop a marketing strategy for their growing business. Together, we outlined a plan that would provide a broad spectrum of brand recognition, allowing Mountains Wave to develop marketing collateral, implement a paid advertising plan, and manage its social media presence, providing detailed reporting and analytics along the way.

The Loan Store is a wholesale mortgage lender that offers consistently competitive loan pricing and top-shelf customer service to mortgage brokers across the country. They are obsessed with the customer experience and have simplified the process to ensure their partner brokers can pass on a similarly great experience to their clients.
Mountains Wave Marketing Approach
Phase 1: Marketing Strategy and Implementation - August 2020 to Present
We started with The Loan Store initially by creating a marketing strategy to meet their needs, and we were then brought in to implement the strategy. We focused our efforts on various target audiences, who were specific brokerage firms and wholesale brokers in the states that The Loan Store worked in, and built out a number of different social and paid campaigns to begin winning over new brokers for the Loan Store.
Since then we have continued to manage their social media presence across Facebook, LinkedIn, and Instagram, in addition to building out paid advertising campaigns through Google Ads.
After we redesigned their website (see Phase 2 below) The Loan Store adopted HubSpot Sales Professional, and since then we have been able to better integrate business workflows and automate processes while defining their lead conversion engine.
Phase 2: Website Redesign - January 2021 to March 2021
In January of 2021, The Loan Store asked us to do a complete website redesign for them. With this redesign, we rebuilt from the ground up. Mountains Wave created new copy, pages, and calls to action with clarity. We are very happy with substantially increased user engagement on the new website. We sought to highlight their company strengths and utilized those to bring in more users. We placed importance on form submissions and reviews for engagement, feedback, and positive reflections of the company. Our tracking has shown significant improvements in time spent on the site, the number of pages visited per visitor and an uptick in submissions.
During our tenure, The Loan Store has developed new products and expanded into new states as we continue to grow their social media campaigns. Social engagement has improved drastically and paid advertising has given more ROI. Our tracking has determined the cost of customer acquisition.
We continue to drive their presence in the mortgage industry with social media marketing, paid advertisements, marketing collateral, HubSpot management, and email marketing campaigns. As the company grows, we have rigorously improved upon the new website since its debut in March and continue to highlight its company strengths and positive reviews.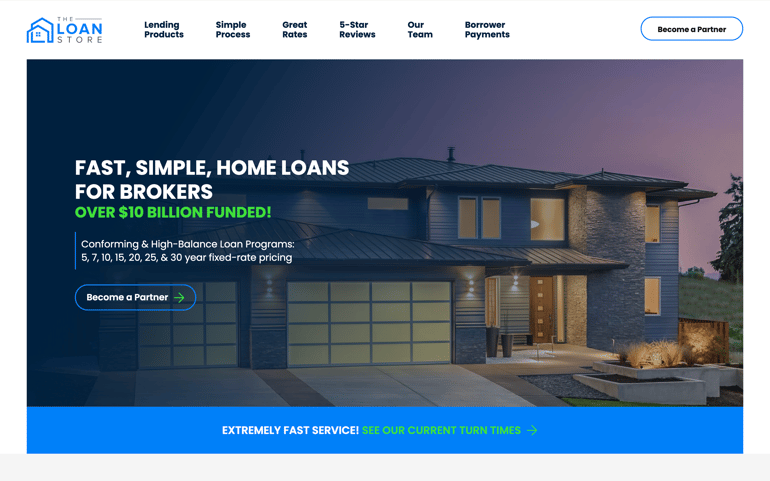 The Results
A big marker of our success is that their cost per acquisition is lower than the industry standard. Through defined lead conversion tracking, we've been able to establish an understanding of their ROI and customer acquisition cost. Our redesign and launch of their new website provided a much-improved user experience and increased engagement numbers, while the social media strategy, marketing collateral, and paid search campaigns also produced results that we are proud of. As The Loan Store continues to expand into new territories, we look forward to continuing our relationship with them as they grow.
Testimonial
"Alex and his team are great to work with. They are attentive to our changing needs and extremely responsive when requests trickle down from our leadership. The work they have done around our website, inbound marketing, and HubSpot adoption has helped us grow in an efficient and scalable manner."
- Rick Folgmann, Chief Revenue Officer, The Loan Store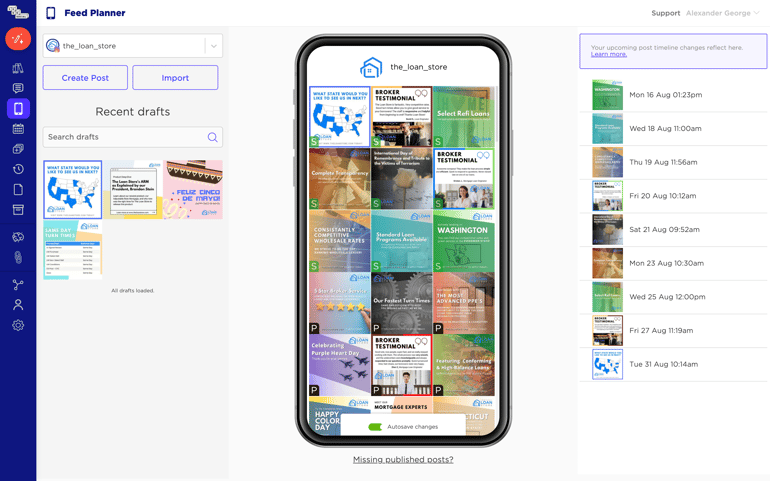 Services Rendered
Marketing Strategy and Implementation, Social Media Marketing Strategy, Paid Search (PPC) Advertising, Digital Marketing Reporting, Email Marketing, Website Design, Copywriting, HubSpot Implementation, HubSpot Sales Hub Management
The Friends Collective
WebDesign - Remer Graphics
Paid Advertising - Cultivative Marketing